It's been about two years now since my son was born. Looking back, I have to admit, I got these two years pretty easy. He hasn't been sick that much, like to eat and try new stuff as well as liked to be really active. And his big brothers have been great idols for him. One just has to try all the things they do.
Our family loves traveling, so we talked about it and decided that, if everything seems to go well the newcomer will have his share of stamps in the passport. And it did.
Instead of giving you the travel journal, I wanted to provide you with few tips about how we survived our travels
Babies sleep
My son's first flight was from Helsinki to Singapore when he was 10 weeks old. He slept 9 hours on that 10-hour flight. People felt we were crazy to do that, but with our 10 weeks of extensive experience with him, we knew it was doable. He enjoyed the warmth, seeing friends, walks around the city and sleeping by the pool and sea, took a dip to a warm kids pool, and was happy.
But the main thing, we tried to choose evening/night flights since he was sleeping then. I have to give a compliment to our local airline, Finnair. Both the cabin members as well as personnel at the gates have been excellent and very helpful, during all our flights and especially when you're traveling by yourself with a small baby.
Everyone has some jet lag, but we tackled it with a few days of long naps. The older the kid becomes, the more effect there is, of course. At times we took naps together, so that made him sleep a little longer.
Babies eat
This part gets a bit trickier. When and if you're breastfeeding, there's no problem. But when you're not, it becomes a bit more challenging. But not impossible.
Not all the countries have a UHT baby formula like in Finland. They have a formula powder that is not the same. So is it worth it to take loads of Tuuti with you from Finland? Well, we had trips where we had the formula with us, and tours, where we didn't. Our little guy got used to powder formula and had no problems with it, but preferred the Finnish version.
Other baby food is about the same, there's a difference in flavor, but for example, Ella's kitchen -the brand is available in Asia, Europe, and the USA.
And diapers, those can be found anywhere. Have a few days of storage instead of the full trip, so you don't have to rush into the store first thing when you land.
We ordered a travel baby chair, kind of pants that can be attached to the chair, which was one of the most brilliant findings my husband had.
Health
How about the vaccinations? And the current health state of the country? Is there freshwater? Will everyone most likely become sick during or after the travel?
We told our traveling plans at Mehiläinen child health center and our dedicated doctor. She made sure we had proper vaccinations scheduled on time. We advanced one vaccination before our trip to Australia. However, it was still in the range of the timing, so we were really nicely taking care of from that end too.
We did see a local doctor in Switzerland at some point just to make sure the little man didn't have an ear infection. Having all-year-round travel insurance, we just filled in the form at the doctors' appointment and that was it. The only problem was my bad german and almost non-existing Italian skills.
Packing
Pack your carry on- bag with the thought- most needed the most available.
Don't overpack

One extra set of clothes is enough if your baby doesn't need more than that at home either. It's enough even if there's a delay in the flight.
Diapers, milk, and baby food. Think about what you'd be good for 24 hours, if your flight is a bit delayed or luggage comes on the following flight, you'll be still ok.
Wet wipes
2 baby bottles, 2 spoons, one children's plastic plate, 2-3 pacifiers
Snack and water bottle for adults
An extra t-shirt (that doesn't wrinkle)
Favorite book and/or toy
Ipad or similar with beloved songs or movies
Something for adults to do when the baby is sleeping
In the beginning, we had a baby blanket to bring some smell from home, but we left it home since the boy will sleep without it perfectly
Prepare to adapt and adjust, find you inner MacGyver
Flying
Prefer the timing your baby has the most extended sleeping periods for your flight.
Be early at the airport, things take more time when you travel with the baby, and you don't want to stress
If you have a bigger stroller, you can ask if you can drop it off at the gate instead of at the check-in. There are airlines which don't have problems with this, and ones that don't like that. But if they let you do that, be ready to board rather a bit early than as a last one.
Use a backpack as your hand luggage. You just might need your both hands.
Not all airports have the luxury of strollers like in Helsinki- Vantaa. If you have a bigger stroller in cargo, you might want to consider buying a child carrier that you can use other times too.
It's harder to warm up milk in the plane, but it's doable, try not to do that when flight attendants are serving. The powder is easier when traveling since hot water is available all the time.
Finnair Business seats have enough room for baby and adult, and yes, breastfeeding can be done easily when lying down. If you need to use a breast pump, the business class usually has sockets on the long hauls but has an additional set of battery with you just in case.
Babycot is an excellent option for baby, but the seats are horrible for adults (Bulkseats are not my favorite)
If the plane is not full, after boarding is completed you can ask to be seated somewhere where the next seat would be empty, so you don't have to hold your baby all the time.
You don't have to take your sleeping child with you when you go to the bathroom. You can, and you should ask if the flight attendant could watch your baby while you do that. At times there are kid-friendly passengers who can do the same if you ask, or they even propose that.
Customs and immigration
Depending totally on the airport, '

JFK – usually when traveling with kids, you get to be directed to shorted lines or special lines,
Chicago- don't even dream about it,
Singapore- automatical transfer to a special line

Go to a toilet as the last thing while still on the plane. The way through the customs might take a long time. And make sure you have that snack at hand, for you and the baby. You or your nerves might need some extra boost now. ?
Hotels and transportation
Traveling by yourself with baby, stroller, luggage, and all might make you consider if the car seat is yet something you want to take with. Most airport taxis have some sort of car seat for babies, but it could be that one size should fit everyone.
Booking your transportation advance (taxi, hotel airport service, rental car) makes it easier for you to have a proper car seat, but it's not still a certainty
We prefer apartment hotels or larger family rooms or suites because:

Water boiler
Fridge
Microwave (Can be available in some hotels when asked)
Kitchenette (is a big plus)

There are gems like Loews Chicago hotel in Chicago and Mantra 2 Bond Street in Sydney, Forenom apartments in Tampere that I can recommend, but other than that, it's a bit a search from trip advisors family travelers feedback
The most important part: Relax
IF YOU'RE NERVOUS YOUR BABY IS NERVOUS, so calm down and relax, know that you'll get some help if you need it and ask for it and just enjoy the ride.
It's not the end of the world if your hair is a bit messy, your t-shirt has stains if you and you're baby are otherwise fine!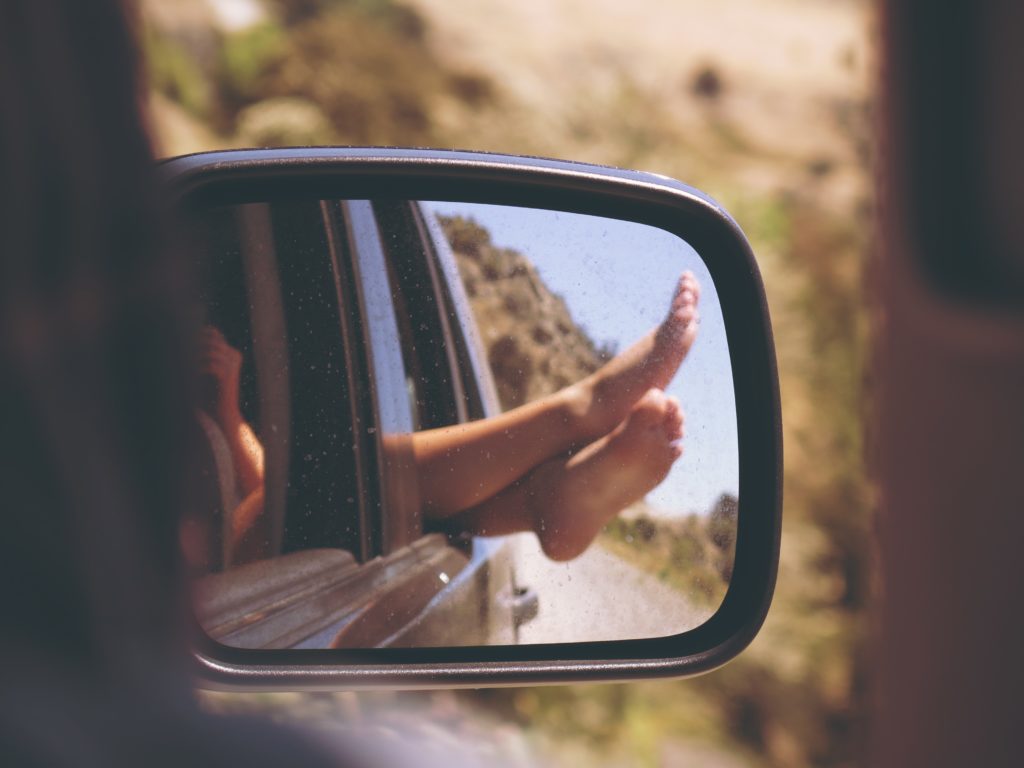 All in all, a bit more preparation and research, but totally worth it!
If you're planning your trip with a baby, or otherwise have some questions, I'm happy to tell you our solutions so you can choose the one that suits you best.